In the battle of healthy eating, I admit it can be as brutal as Custer's Last Stand. Sometimes I need help from an unlikely source, and in this case, it's mango salsa.
I think many people trying to lose weight understand that acclimating to healthier eating can be tough...and sometimes you just want to slather your boring ass healthy food in cheese sauce or ranch dressing! Okay, deep breathes....
But for me, I have discovered healthy eating doesn't have to be boring if I add this quintessential ingredient to my food: mango salsa. I mean, it practically goes with everything: red meat, white meat, fish, crustaceans, roasted veggies, on top of rice or quinoa, on salads, tacos...and so much more!
I can't get enough of it, but I have to admit that I often buy it premade at Whole Foods--which is where I first discovered this marvelous and refreshing topping. I did, however, come across a simple recipe, courtesy of allrecipes.com, for the perfect mango salsa:
1 large ripe mango, peeled, pitted and diced

1/2 red bell pepper, diced

2 tablespoons minced red onion

1 tablespoon chopped fresh cilantro

1 jalapeno pepper, seeded and minced

2 tablespoons lime juice

1 tablespoon lemon juice

salt and pepper to taste
Prepare the mango salsa by combining the mango, red bell pepper, red onion, cilantro, and jalapeno pepper in a bowl. Add the lime juice and 1 tablespoon of lemon juice, and toss well. Season to taste with salt and pepper, and refrigerate until ready to serve.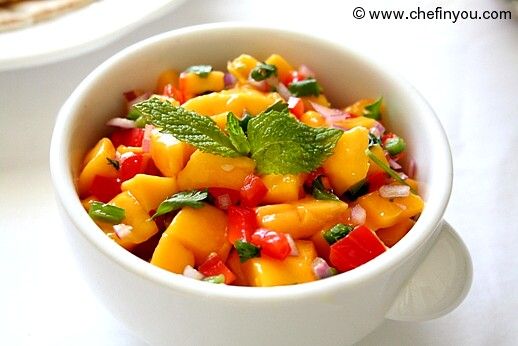 The final product...isn't it gorgeous! Photo courtesy: chefinyou.com
Looks pretty easy, eh?
And of course, you can add or substitute ingredients at your desire. I personally like to add avocados when I am eating mango salsa, which almost makes it a mango guacamole. The recipe can also go without the peppers, as I think the combination of cilantro, onions, mango and lime juice work perfectly as is.
Damn, all this food talk is making me hungry and it is currently dinner time for me. Time to scrounge my fridge and find something to pair with some mango salsa. Cheers!