After a 19-month absence, I decided it was time for my return to blogging.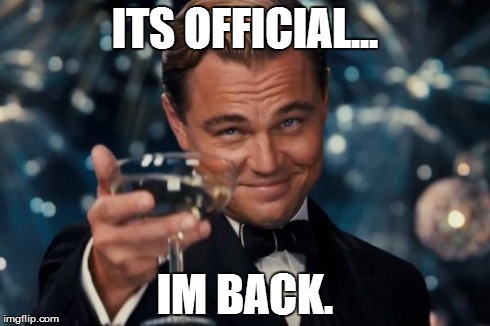 A lot has happened since I last logged onto this account: I was laid off from my job (admittingly, it was a shitty job) and while I landed temporary work, I had to live paycheck-to-paycheck for over a year; a really good friend moved away from me and it took a toll on me emotionally, leaving me to feel lonely and missing her terribly; my temp gig lead me to a permanent job, which happens to be at a reputable and high-profile organization in my field; and most importantly - I turned 30!
Actually, I have celebrated two birthdays since my last blog post. Now that I can officially say I am "in my thirties," I am reminded of the importance of a healthy lifestyle. I would be lying if I said I spent these past 19 months being productive and healthy - my diet and exercise regiment have gone to hell. And I can certainly feel the impact of these decisions, including achy back, low energy, and my weight yoyoing all over the place.
So this is my wakeup call to get back into good habits - and to give my blog another shot as a way to hold myself more accountable.
So here is to 2017 (and the remainder of 2016) being a good year for health and fitness. Stay tuned for more...